Co-op Funeralcare has been caring for the needs of families in our communities for over 100 years. We'll be with you every step of the way with help, guidance and advice to make sure your loved one is treated with dignity and respect at every stage.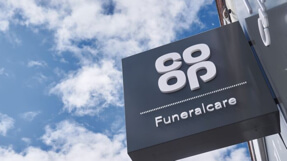 If someone has died
Get in contact with us as soon as possible. We can start making arrangements to bring your loved one into our care, offer help and advice on what you need to do, and explain your funeral options.
Call us on 01225 754 355 or fill in our online form and someone will be in touch with you to help as soon as possible.
Get advice from GOV.UK on what else you may need to do when someone dies.
---
Funeral options and prices
We offer a choice of funeral packages, starting from £1895. We'll work with you to make sure that you get the ceremony you want and explain the costs at every stage.
See what's included in our simple, classic and traditional funeral packages
Thank you messages
Thank you for helping us make the funeral so special. Friends said it's the best they've been to in a long time.You listened and helped every time we came up with something and it was worth it for what he did in the war - going in a boy, coming out a man.
On behalf of the family, I'd like to extend a massive thank you to the team who played a part in looking after Mum so well. The service provided has been excellent throughout and has really helped to take a weight off our shoulders. Our sincere thanks to you all.
Just had to write and thank you and your team for the perfect 'send off' that was my mothers lovely funeral. Everything went like magic to create the wonderful atmosphere that made the whole afternoon unforgettable. Our huge thanks once again.
Other funeral homes near Trowbridge, Wicker Hill