Co-op Funeralcare has been caring for the needs of families in our communities for over 100 years. We'll be with you every step of the way with help, guidance and advice to make sure your loved one is treated with dignity and respect at every stage.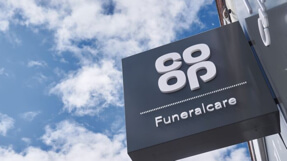 If someone has died
Get in contact with us as soon as possible. We can start making arrangements to bring your loved one into our care, offer help and advice on what you need to do, and explain your funeral options.
Call us on 01709 828 818 or fill in our online form and someone will be in touch with you to help as soon as possible.
Get advice from GOV.UK on what else you may need to do when someone dies.
---
Funeral options and prices
We offer a choice of funeral packages, starting from £1895. We'll work with you to make sure that you get the ceremony you want and explain the costs at every stage.
See what's included in our simple, classic and traditional funeral packages
Thank you messages
I just wanted to thank you for all your help and advice. The staff on the day were extremely helpful and caring and we just wanted you to know how much we appreciated your input.
Throughout this difficult process, we were guided most sensitively and with warmth. We congratulate you on having such helpful and considerate staff, dealing with what was a tricky situation. Please pass on our heartfelt thanks for making the occasion a pleasantly memorable one.
A massive thank you comes your way from us all. The day couldn't have gone any better – as sad of an occasion as they are, it was exactly as we as a family wanted. We will never forget what you did for us. You are a credit to the company and the profession.
Other funeral homes near Rotherham, Doncaster Road