Co-op Funeralcare has been caring for the needs of families in our communities for over 100 years. We'll be with you every step of the way with help, guidance and advice to make sure your loved one is treated with dignity and respect at every stage.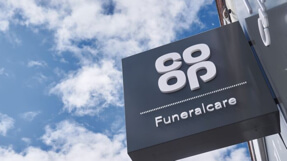 If someone has died
Get in contact with us as soon as possible. We can start making arrangements to bring your loved one into our care, offer help and advice on what you need to do, and explain your funeral options.
Call us on 0118 966 7922 or fill in our online form and someone will be in touch with you to help as soon as possible.
Get advice from GOV.UK on what else you may need to do when someone dies.
---
Funeral options and prices
We offer a choice of funeral packages, starting from £1895. We'll work with you to make sure that you get the ceremony you want and explain the costs at every stage.
See what's included in our simple, classic and traditional funeral packages
Thank you messages
Some people go that extra mile, to see the pain and help them smile. It can't be easy, in your role, seeing people in tears, on the whole. To help them through, when times are rough, with kindness and compassion it must be tough. Thank you
A very big thank you for the overall handling of our loved ones Funeral arrangements. Your sympathetic and compassionate manner each time we met brought a great deal of comfort to me and eased the pain of what was a difficult situation, thank you for making it such a memorable day.
We're so glad you looked after Dad, your support and thoughtfulness were never-ending. I didn't think I'd meet someone so special during oneof the worst times of my life but you were perhaps my dad's final friend, he chose his friends wisely...you were a good choice!
Other funeral homes near Earley, Reading