Co-op Funeralcare has been caring for the needs of families in our communities for over 100 years. We'll be with you every step of the way with help, guidance and advice to make sure your loved one is treated with dignity and respect at every stage.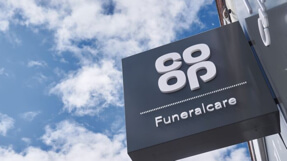 If someone has died
Get in contact with us as soon as possible. We can start making arrangements to bring your loved one into our care, offer help and advice on what you need to do, and explain your funeral options.
Call us on 01325 300 510 or fill in our online form and someone will be in touch with you to help as soon as possible.
Get advice from GOV.UK on what else you may need to do when someone dies.
---
Funeral options and prices
We offer a choice of funeral packages, starting from £1895. We'll work with you to make sure that you get the ceremony you want and explain the costs at every stage.
See what's included in our simple, classic and traditional funeral packages
Thank you messages
We can't thank you enough for all of your help and support in organising Mum's funeral. It was everything we wanted. Thanks from the bottom of our hearts for making it so wonderful and flawless.
From the moment you knocked on my door I felt totally at ease. I was of the opinion that funeral directors were dowdy, solemn, even terrifying individuals to some extent, but you were both caring and funny, which took away all of my worries.
Thank you for your very kind care and attention. In the time leading up to Mum's funeral you could not have been more attentive, sympathetic or patient. Your approach was never formal, but always respectful. We came to look upon you as a friend.
Other funeral homes near Newton Aycliffe, Macmillan Road