Co-op Funeralcare has been caring for the needs of families in our communities for over 100 years. We'll be with you every step of the way with help, guidance and advice to make sure your loved one is treated with dignity and respect at every stage.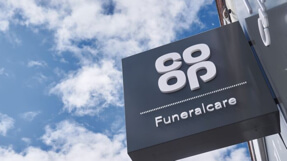 If someone has died
Get in contact with us as soon as possible. We can start making arrangements to bring your loved one into our care, offer help and advice on what you need to do, and explain your funeral options.
Call us on 01590 677 170 or fill in our online form and someone will be in touch with you to help as soon as possible.
Get advice from GOV.UK on what else you may need to do when someone dies.
---
Funeral options and prices
We offer a choice of funeral packages, starting from £1895. We'll work with you to make sure that you get the ceremony you want and explain the costs at every stage.
See what's included in our simple, classic and traditional funeral packages
Thank you messages
A big thank you for guiding us through my mum's cremation. We, as a family, much appreciated your considerate and thoughtful approach and wise counsel. Thank you for your help and support.
Thank you for the way you treated us all as a family at the sad passing of our beloved mum. The care, kindness and compassion shown and the thoughtfulness and attention to detail. We know that as a friend of mum and dad that we could expect nothing more than perfection.
Sensitivity and professionalism shown the staff was exceptional. My experience should be complimented as of course I did on the day. Also the temporary staff placement who dealt with me in a constructive and knowledgeable way. Compared to other funeral services you were outstanding.
Other funeral homes near Lymington, St Thomas Street