Co-op Funeralcare has been caring for the needs of families in our communities for over 100 years. We'll be with you every step of the way with help, guidance and advice to make sure your loved one is treated with dignity and respect at every stage.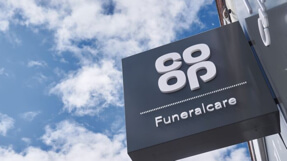 If someone has died
Get in contact with us as soon as possible. We can start making arrangements to bring your loved one into our care, offer help and advice on what you need to do, and explain your funeral options.
Call us on 01377 253 871 or fill in our online form and someone will be in touch with you to help as soon as possible.
Get advice from GOV.UK on what else you may need to do when someone dies.
---
Funeral options and prices
We offer a choice of funeral packages, starting from £1895. We'll work with you to make sure that you get the ceremony you want and explain the costs at every stage.
See what's included in our simple, classic and traditional funeral packages
Thank you messages
Thank you for all your help through this sad time. You have been truly amazing in the way you looked after me and my family. The loving care you gave to my late mum, you are a very special person and we would not have got through this as well as we did without you. Thank you so much.